Couperose is a condition where redness appears due to the presence of small, dilated red blood vessels visible on the face; often on the cheeks, nose and forehead. It is common on aging and lighter skin. Couperose is benign, but may be concerning to you, if it's noticeable. The small blood vessels can easily be treated by laser therapy.
Couperose is caused by both external and genetic factors. Often people with weak elasticity of the capillary walls of their skin develop the condition, however age, smoking, sun exposure and extreme temperature changes are also risk factors.
The Treatment
Treatment takes 20-30 minutes. Often 1 treatment suffices. Sometimes 2 or 3 treatments are required, with intervals of a month, as skin renewal takes 30 days. Laser treatment can be a little uncomfortable; absorption of the light energy feels like a small rubber band flicking your skin.
We use a new laser machine with a small laser pointer, this pen gives off a very small and precise energy beam, because of the heat of the energy beam the walls of the veins stick together. After the treatment, the skin may be warm and slightly red, which differs per person, but with this new laser pointer the skin is minimally loaded.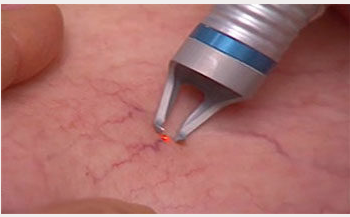 We advise to avoid sauna visits, hot showers and harsh sunlight to prevent any further reduction in blood flow.
Prices €65.00 for 20 minutes and €95,00 for 30 minutes.
For all pricing, click here.