Not an ordinary salon,
but a Beauty Atelier.
We permanently solve many beauty problems!
As:
thin eyebrows
pigment spots
incorrect permanent make-up
couperose (blooded veins)
dark circles
coarse skin structure/ coarse pores
scars / acne scars
Owner Martine Eger has been a well-known name for everyone who works at TV for years. She is the makeup artist of many famous Dutch and world stars. Over the years she has developed herself extensively and has completed various training courses. She is now specialized in permanent make-up and laser technology. Now she mainly works in her own beauty studio in Amsterdam. Due to her years of experience as a make-up artist, she distinguishes herself from other colleagues in this profession, beauty in its entirety, skin care, make-up and hair.
Due to her long make-up experience, she has a perfect eye for styling eyebrows that always fit your face. And that is a big advantage when applying Permanent Make-up, it stays on for a long time, so the right shape is of great importance.
She is also often asked to remove old or incorrect permanent make-up. She is now fully focused on that. With the same laser machine you can also remove pigmentation spots, couperose and tattoos.
Martine likes to be your beauty coach.
Martine has selected 4 special treatments for skin care. Treatments with good results, scientifically proven, for a radiant and fresh skin.
And of course you can contact The Make-up Factory for make-up advice, or a total beauty make-over (hair and make-up), camouflage lesson or party make-up.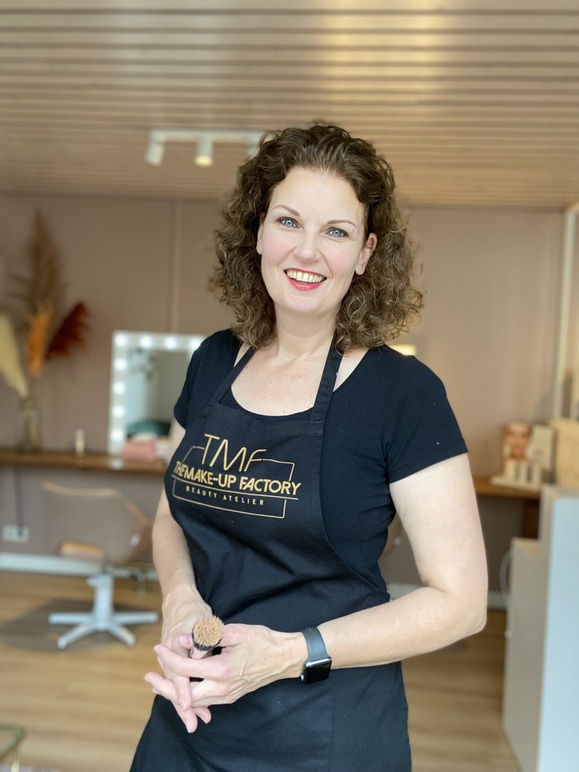 Permanent makeup
This make-up never runs out and saves you time. The Make-up Factory offers various procedures, like lash line- and eyeliner tattooing and microblading hairstrokes.
Laser Treatments
We specialise in the removal of tattoos, permanent makeup, age spots, couperose (fine blood vessels) and radiation spots. We also offer fungal nail therapy.
Carbon Laser Peel
The carbon laser peel treatment stimulates the skin to renew and rejuvenate collagen. The process combines laser technology and medicinal activated charcoal (carbon) powder.
Microblading
The microblading- 3D -Hairstroke technique creates fuller looking eyebrows by creating tiny scratches, in which pigment is deposited. This is the most natural technique for permanent eyebrow makeup.
Opening hours
Tuesday - Friday: 10.00 - 20.00h
Saturday: 10.00 - 17.00h
Closed on Sundays and Mondays
Contact
Phone: 020- 470 42 92
E-mail: info@themakeupfactory.nl
Address
Von Liebigweg 39
1097 RL Amsterdam-Watergraafsmeer