Scar Treatment
With Mesoneedling
Mesoneedling is a treatment technique for both the face and body, with a special pen with sterile needles small holes are made in the skin, which are not visible with the naked eye. This stimulation releases growth and healing factors that ensure the natural production of collagen and elastin. The scar tissue is softened with the help of a special serum. Unfortunately, we cannot make all scars disappear, but we can often soften and improve them.
If you have just had surgery and want to have the scar treated, you can only do this 6 months after the operation. Start with our LED Light Therapy immediately after surgery, the skin will heal 57% faster! This has been scientifically proven!
Older Scars
We can also treat older scars well. The serum softens the scar tissue, we have seen great results even on 30-year-old scars.
Keloid Scar
If you suffer from a keloid scar, we cannot treat it with Mesoneedling.
Acne scars
The mesoneedling technique is also very suitable for treating acne scars. The result is astonishing. Large pores or a coarse skin structure are visibly improved.
However, this treatment can only be applied to a healthy skin. If you are currently suffering from an active acne outbreak, we cannot treat your acne scars. The treatment will spread the acne extra.
Result
The result is not immediately visible because the skin needs 30 days to produce collagen and elastin. The skin does give a fresh impression.
Multiple treatments are needed. Preferably once a month.
Avoid excessive sun contact and sauna visits immediately after the treatment. Good hygiene is important.
Price € 80.00 per zone | € 134,50 for the whole face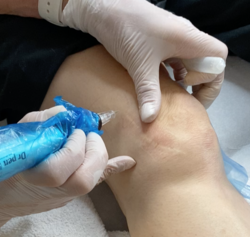 Scar treatment with Meso Needling Amsterdam
We are happy to remove older scars in Amsterdam.
Be welcome in Beauty Atelier TMF for scar treatments and skin improvement in East Amsterdam.
Scar treatment
Scar treatment in Amsterdam with Mesoneedling is suitable for example
acne scars
Stretch marks
Scars from surgery
Minor damage
This scar treatment in Amsterdam is only applicable to healthy skin.
The best scar treatment in Amsterdam is with Meso needling.
A highly effective serum softens the scar tissue. You will see results after a few weeks.