Carbon Peel
For a deep cleanse and skin rejuvenation
Our Carbon Peel is a safe and painless technique. After only 1 treatment your skin will look fresher.

The process combines laser technology and medicinal activated charcoal (carbon) powder. The laser penetrates deep into your skin and safely stimulates collagen production. The process targets the dermal (middle) skin layer. The outer layer remains intact. All skin types and colours are treatable. The process is completely painless and even after the treatment your skin will not be red or sensitive
We are the only qualified salon in Amsterdam to offer this treatment!
The Carbon Laser Peel is suitable for people with:
Enlarged pores and/or blackheads
Acne and acne scars
Oily skin
Couperose
Age/pigment spots
Skin improvement is noticeable after only 1 treatment. For optimal results more sessions may be required, preferably with 3-4 week intervals.
The price is €85.00 per treatment.
A course of 5 sessions costs €361.25, which is a 15% discount and comes to €72.25 per treatment.
For all pricing, click here.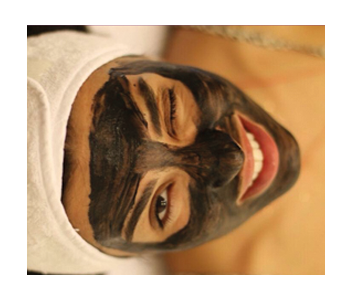 What are some of the advantages of carbon peel?
The treatment is completely painless
It is effective on all skin types and skin colours
There is no recovery period
There is no redness, scabbing or burning sensation
It provides a deep cleanse
It works from within
It stimulates collagen and elastin
It rejuvenates the skin
It reduces fine lines, wrinkles, acne and scars
It tightens dilated pores
What is carbon peel?
Carbon laser peel treatment rejuvenates and improves the skin after only one session. It is safe and painless. The Q-Switched Nd:YAG Laser Technology is combined with medicinal activated charcoal (carbon) powder of mineral mud of volcanic rock, natural vegetal and herbal extracts.