Meso Needling for natural skin improvement
What is Mesoneedling?
Meso needling is a new successful method in the field of anti-aging and skin problems. It is a treatment that achieves visible skin rejuvenation and collagen stimulation. The skin gets a healthy color and becomes smoother and tighter!
The result with scars is permanent!
Meso Needling can be used for:
Fine lines and wrinkles
Anti Aging
Pigment spots
Dull and sallow skin
Sun damage
Large pores/skin structure
Acne scars
Scars
Stretch marks
Flabby skin
Gray skin tone
Dark circles under the eyes
Cleavage
Hands
How does Mesoneedling work?
Mesoneedling is making tiny holes in the skin with a vibrating pen with small, sterile needles. These tiny holes are not visible to the naked eye. Due to the targeted perforation of the skin, the cells release growth factors immediately after use, which stimulates the production of collagen, elastin and hyaluronic acid.
However, this treatment can only be applied to a healthy skin.
The skin looks slightly red after the treatment, which can last for 1-2 days. The skin should be well protected from the sun with a high SPF for a few weeks after the treatment. The effect of the treatment is not immediately visible, the skin needs time to produce collagen and elastin. This will take 30 days. Immediately visible is a fresh well-perfused skin.
The treatment is most effective once a month for 6 months.
Price per zone € 80,-
Price for the face € 125,00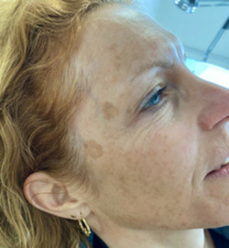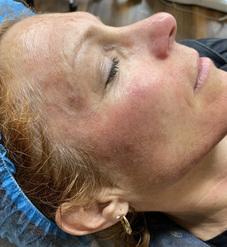 Mesoneedling Amsterdam
Do you suffer from pigmentation spots, dull skin, or skin aging? This is an annoying problem that can make you feel very insecure. Skin improvement is possible with mesoneedling. At The Make-Up Factory you have the option to remove a pigmentation stain in Amsterdam. We have the professional meso-pen ready with which we ensure that the skin is activated. After the mesoneedling treatment in Amsterdam, more collagen is produced. This makes the skin firmer. Would you like to know more about our skin-improving treatments in Amsterdam? Then we recommend that you simply contact us and make a no-obligation appointment with us. We will then look together at how we can put an end to your pigmentation spots or skin problem.
What is Mesoneeling?
Mesoneedling is a new successful procedure in the field of anti-aging and skin problems.
Are you looking for a skin-improving treatment in Amsterdam?
Mesonedling is the treatment to nourish, strengthen and improve the skin.
Remove scars in Amsterdam
For scar removal in Amsterdam you have come to the right place at the beauty studio. Make an appointment for a consultation and we will look together at how we can improve these scars.
Improving scars in Amsterdam is possible with mesonedling. This is a short treatment, after which your skin will be sensitive for some time. The scar will be red for the first few days, which is a good sign, because we want to allow the scar to bleed well, so that any white scar tissue regains some color. The scar tissue is softened with a special serum. There are several treatments for a good result.
Scar improvement Amsterdam, a must!